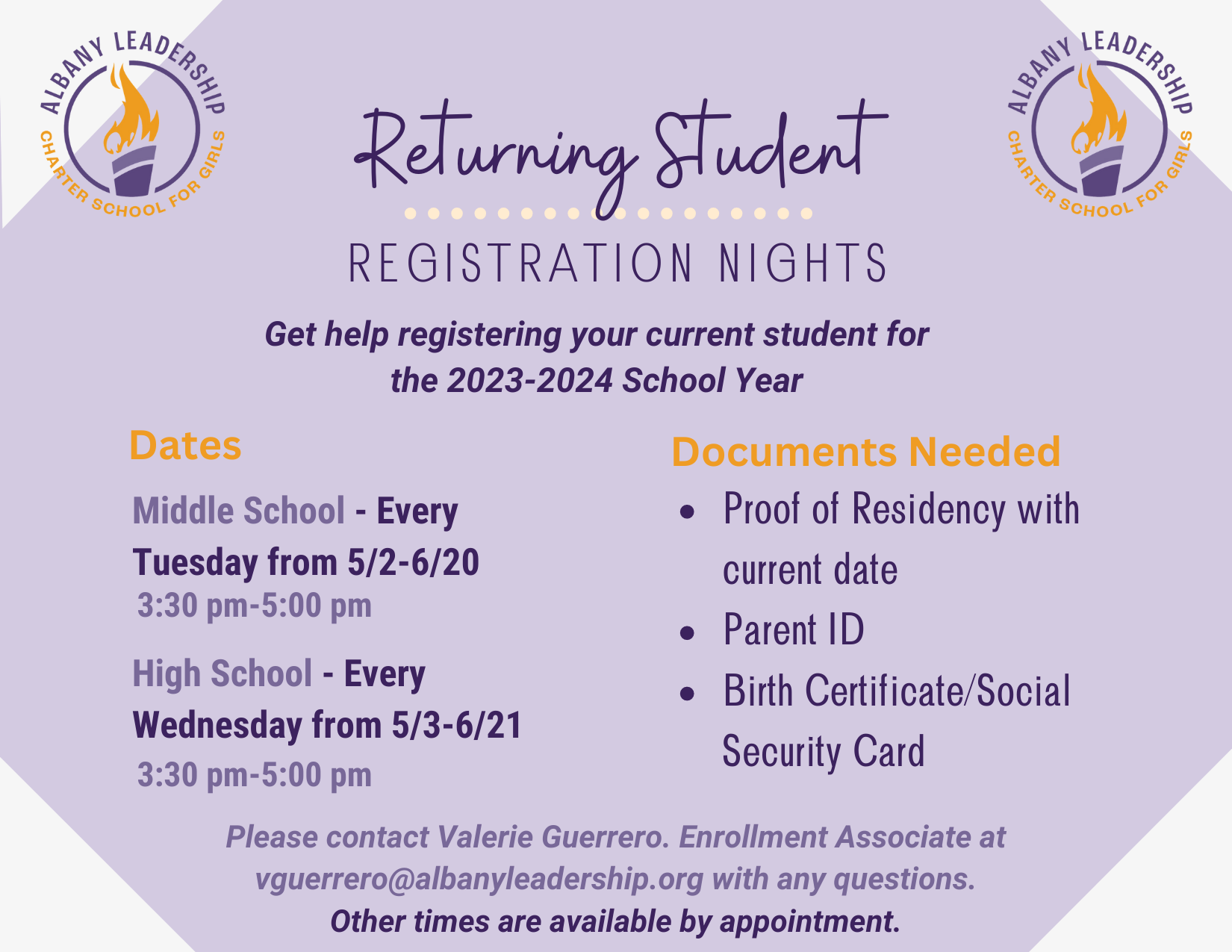 2023-24 Registration with SnapCode powered by Power School Enrollment
We are excited to announce an online returning student registration.  This process replaces FamilyID.
You will receive a snapcode by May 1st in your email sent from vguerrero@albanyleadership.org with the subject line reading "ALCS Registration 2023-2024".
If you do not receive this information or have any trouble completing registration please contact Valerie Guerrero, Enrollment Associate at 518-694-5300 Ext. 317 or by email at vguerrero@albanyleadership.org
 How do I get started?
Click the unique link emailed to you.
What if I did not receive a snapcode notification email? 
The email address on file with your child's campus may be an incorrect email address.
If the email address on file is correct, the email may not have reached the family due to a firewall or spam filter.
What's a snapcode?
The snapcode is like a key to your child's data for the upcoming school year. You should receive a unique snapcode for each child. Make sure you enter it exactly as it appears above, with no spaces or punctuation.
Do I have to answer all the questions?
Questions marked with a red asterisk (*) are required.
What if I make a mistake?
If you would like to make a change, prior to submitting the form, you can either navigate back to the page using the "< Prev" and "Next >" buttons. Or if you are on the Review page, click on the underlined field. If you have already submitted the form, then you will need to contact your student's school, so they can make the changes for you.
I've completed the form, now what?
Once you have finished entering your information, click "Submit". This will send all of the information you've entered to the school. If you cannot click on this button, you will need to make sure that you have answered all the required questions.